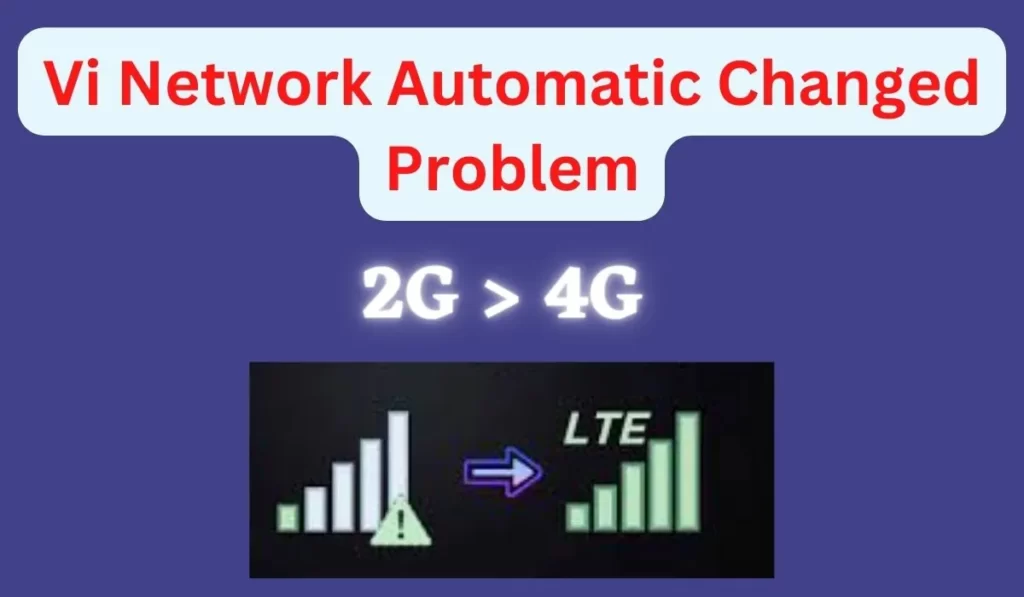 Are you having trouble connecting to the internet on your VI Edge network? If your network is showing 2G, you may have difficulty accessing the internet. Fortunately, you can take some simple steps to fix the problem.
This blog post will discuss how to troubleshoot and resolve issues with your VI Edge network showing 2G. We will go over the possible causes and some tips for determining them. Read on to learn more about how to get your internet connection back up and running.
What is the most common problem showing 2G
The most common problem with 2G internet on your VI network is not having a 4G sim. Older sim cards may be limited to 2G speeds, preventing you from accessing the internet. You will need to check the packaging or the sim card itself to find out what type of sim card you have. If your sim card is not a 4G card, you will need to upgrade it.
Upgrading your sim card to 4g can help resolve your VI Edge network issue if you are showing 2G. To do this:
You will need to visit your nearest Airtel care center.
Here, you can speak with an agent and request to upgrade your sim card from 3g to 4g.
The process will require you to submit a few documents, including ID proofs such as an Aadhar card.
Once all of your documents have been verified and approved, the Airtel representative will be able to provide you with a new 4G sim card. Make sure to keep the new sim card safe and handy so that you can use it when required.
Other Fix VI Edge Network Showing 2G? Here is How to Fix It
If you are sure that your sim card is a 4G card, then the next step is to check for other issues.
1. Check the phone's signal strength
One of the most common causes of not having a 4G connection is weak signal strength. If you are experiencing a 2G network on your VI Edge network, your phone's signal strength is one of the first things to check.
You can easily check your signal strength using the status bar on your phone. The signal bars indicate how strong the signal is in your area. If you have fewer than four bars, it could be a sign that your signal is too weak for the 4G network.
2. Restart the phone
Restarting your phone can often fix the issue of your VI Edge network showing 2G. To restart your phone, first, turn it off and wait at least 30 seconds before turning it back on. This should reset the network connection and hopefully help resolve any issues you may have with your VI Edge network.
If your phone still shows a 2G connection after restarting it, you may need to take further action. Consider trying a few steps in this blog post to troubleshoot your VI Edge network issue.
3. Check for a system update
If your VI Edge network is showing 2G and not allowing you to access the internet, you should check for a system update. System updates often contain bug fixes and can resolve issues with your phone's network connection.
Head to your phone's settings menu to check for a system update.
Look for the 'System' option and select it.
Within this menu, you will see an 'Update' option.
Tap this, and your phone will begin searching for any available updates.
Follow the on-screen instructions to complete the installation if an update is available.
Once the update is installed, restart your phone and check if your network connection has been fixed.
4. Check the phone's data usage
The phone's data usage may be impacting the quality of the connection. You can go to your phone's settings and look for the data usage section. Here, you'll be able to view which apps consume the most data. If you find one particular app consuming too much data, try disabling it or uninstalling it to see if it improves your network connection.
Additionally, you can set a data limit to help manage your data usage. You can also look into reducing data usage on certain apps, such as lowering video streaming quality or turning off background app refresh.
5. Check if the problem is with the network
If you have checked all the steps mentioned above and your VI Edge network is still showing 2G, then it might be a problem with the network. To ensure this is the issue, try using another device or a sim card on the same device. If another device or sim card is working fine, you can be sure that the problem is with your network.
If the other device or sim card works fine on the same network, there may be a technical issue with your connection or the network itself. In such cases, contacting your network provider and informing them about the issue is best. They may be able to fix the problem quickly, or they may need to investigate further to find out the cause of the issue.
6. Contact Support
To contact customer care service call on 199 or according to your area you can call customer care numbers are different you can get them here.
After calling tell them your situation they will help you or you can step towards the nearest Vi customer care service.
Summary
It is important to ensure that your VI Edge network is functioning properly so that you can access the internet. If your network shows 2G, it could be caused by various factors, such as not having a 4G sim card, a weak signal, or even a system update.
The best way to troubleshoot this problem is to start by checking your phone's signal strength, restarting the device, upgrading your sim card, and finally checking for a system update. With the right steps, you should be able to get your VI Edge network back up and running in no time.