USB OTG (On-the-go) stands for On-the-Go and refers to the ability of certain devices to be connected through USB (Universal Serial Bus).
It enables two USB devices, such as flash drives, cameras, mice, and keyboards, to communicate with each other directly.
If your Xiaomi/Mi/Redmi smartphone doesn't support it correctly then you can follow these instructions to activate it manually.
This article will help you solve this issue and make the USB OTG work again on your Xiaomi/Mi/ Redmi / Poco phone . We will also provide some additional details in the article, which will help you to understand things better.
What is USB On The Go?
USB On The Go (OTG) is an Android-specific feature that makes it possible for you to use USB devices, such as hard drives and keyboards, with your phone or tablet.
If you connect these types of devices to an Android device using a standard micro-USB cable, they will usually function just fine.
But if you are using one of several popular (and cheap) Chinese smartphones and tablets, you might encounter some problems. This is because many of these manufacturers disable support for OTG by default.
How to turn On/Off USB-OTG on Xiaomi/Mi/ Redmi Smartphones
Follow the steps given below to on & off the USB-OTG setting on MIUI 10, MIUI 11, MIUI 12, MIUI 13.
Open the Settings app.
Tap on Additional settings.
Tap on OTG.
Enable or disable OTG.
Reasons behind USB Pendrive not recognizing
USB On-The-Go (OTG) is a specification that allows USB devices such as USB flash drives, digital cameras, and printers to be connected to Android devices.
This allows you to move data between devices. If you want to transfer pictures from your smartphone or tablet computer to another device such as your laptop, for example, USB OTG makes it possible.
You can also copy files to and from an external hard drive using an OTG cable. It's easy to set up once you know how, so let's take a look at how to use USB OTG with any Android phone or tablet.
If you own a Xiaomi or Redmi phone or tab, do try these methods to connect your USB drive to your mobile device easily without rooting them first.
A. Hardware support
To connect your phone with OTG USB, your phone supports the OTG standard should be there. You can know that by checking the phone specs. Simply Google your phone model, and you can find full details of your phone's specifications.
Another option is to try some third-party apps which can descry your device's comity with OTG standards. One similar popular app is USB OTG Checker. It can overlook and test your device tackle and software performances to let you know if they're suitable and able enough to connect an OTG.
B. USB debugging Settings
How to enable USB OTG in your Xiaomi/ Mi / Redmi Smartphone: The first step is to check whether you have enabled USB OTG in your device settings. For that go to Settings> Additional settings> Developer options > USB debugging > Turn on.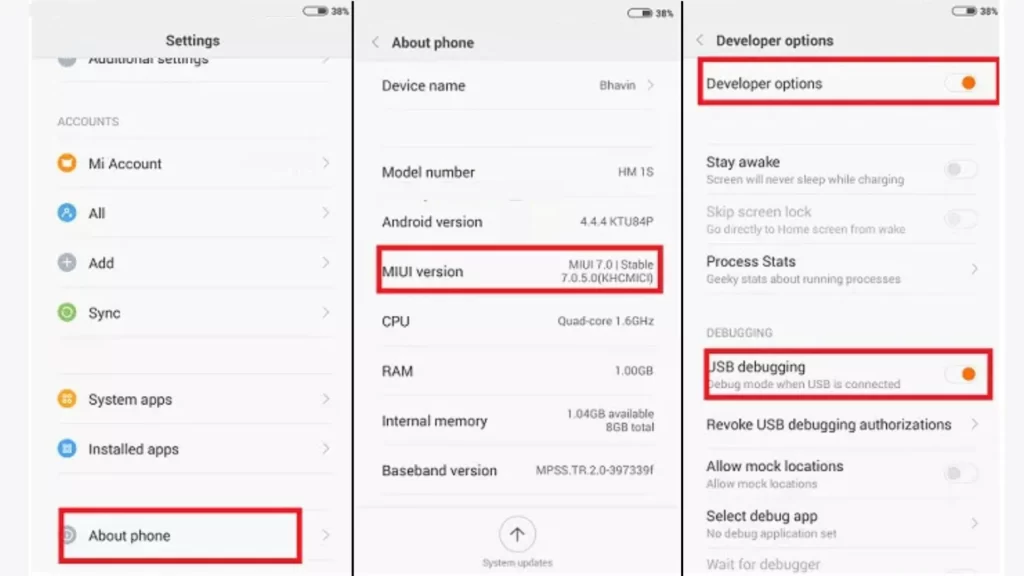 C. Suitable OS version
Only having suitable hardware is not sufficient you should have Operating system support to connect OTG Pendrive and access it. Remember, USB 2.0 and USB 3.0 can be connected to a device supported by Android 3.1 and above. And a USB Driver works only on Android 9.0 and higher.
Fix: USB OTG Android Not Working on Xiaomi/Mi/ Redmi Smartphones
The first step in solving any problem is admitting there is a problem in need of fixing. Once you understand why your phone isn't recognizing external storage devices when connected via a USB OTG cable, we can move on to finding solutions.
If your Xiaomi/Mi/ Redmi smartphone is not working with USB OTG, there are a few things you can try:
Check that your USB OTG is in working condition and properly connected to the phone you're trying to connect to.
Try using a different USB OTG or device to see if the issue is with the OTG or device you're currently using.
Make sure that your phone's USB settings are configured correctly. Some phones have settings specifically for USB OTG, which may need to be enabled.
Try restarting your phone and the device you're trying to connect to.
If there is an issue in your current OS, you can try to update your Device OS to the latest version, so as to solve issues related to OTG-USB support.
If you believe that the issue Is due to the USB port of the Device then you will have to replace the part. Generally, the USB port of the device can be returned from Mi care easily, which is not costly.
If the above steps do not work, it is possible that your phone m
FAQ
Do Redmi phones support OTG?
Yes, Redmi/ Xiaomi/ Mi smartphones including their Note series, and number series support OTG. Users should know that new updates, damage to your smartphone port, USB drive issues, etc may interrupt connecting your device to Redmi/ Xiaomi smartphone.
Final Words
If you're having trouble with USB On-The-Go, we suggest that you try installing Google's USB drivers and disabling any antivirus program you may have running in order to see if it fixes things. If nothing works, please reach out for additional assistance. You can use this guide on OTG Not Working on POCO devices as they also use MIUI.
We hope customer support will do their best to assist you as soon as possible. You can also post comments below if you need further help. We will be happy to assist in any way that we can.