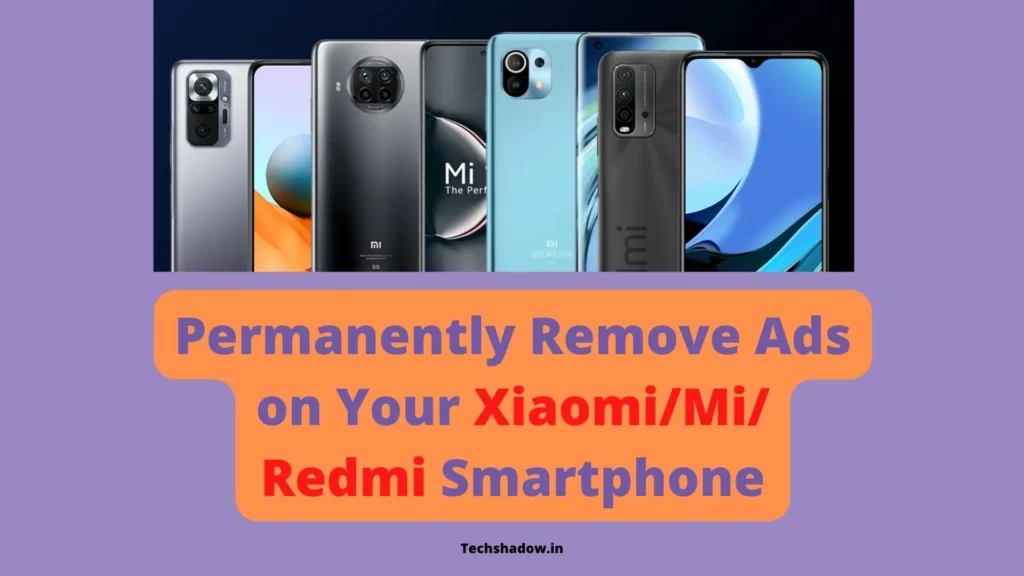 Xiaomi may be the most popular smartphone manufacturer in India, but they are no strangers to controversy.
In recent years, the company has come under fire for selling phones with pre-installed malware and adware, in an effort to make some extra money off of its loyal fans.
If you have purchased a phone from Xiaomi and want to eliminate these ads permanently, this guide will walk you through removing the ads from your Redmi smartphone.
Also Read: स्मार्टफोन के लिए 10 सर्वश्रेष्ठ फ़ॉन्ट्स MIUI Xiaomi/Mi/Redmi
Why do ads appear on your smartphone?
Companies use advertisements to get your attention, increase their brand awareness and drive sales.
If you are using a mobile device with an internet connection (i.e. almost all smartphones), you are subject to ads popping up when you are doing online activities such as surfing social media, checking email, or watching videos.
The most common way ads are served is through third-party ad networks that collect data about your browsing activity across multiple sites in order to target you with relevant advertisements.
While these ads don't cause any harm, they can be annoying and distracting. Especially if you find yourself repeatedly clicking them out of annoyance instead of interest.
Two ways to remove these ads from your phone
There are commonly a couple of ways to remove these annoying ads from your Redmi smartphones.
The first way is to go to your phone's Settings and delete apps from there. Just search Ads in MIUI or MIUI ads, then click Remove.
The second way is through an app called AdAway. This will remove all ads from your phone (not just those in MIUI) and keep them off permanently.
So, which method is better?
MIUI and Stock are actually pretty different, with MIUI being more about looks and stock being more about pure efficiency.
If you want to get rid of ads on your Xiaomi/Mi/ Redmi smartphone, you will need to flash a custom ROM like LineageOS.
While it's fast and efficient, it isn't quite as pretty as MIUI. That said, if you aren't worried about how pretty your phone is (and let's be honest: most people who buy cheap phones aren't), then there really isn't much reason to use MIUI.
You can get rid of ads by installing an ad blocker in any browser, or using an app like AdAway (which we have mentioned in the above subheading).
1. The lesser-known method
You can also disable ads and unnecessary apps by performing a factory reset. This will help you get rid of pre-installed bloatware that comes with your phone.
To do so, go to Settings > Backup & reset > Factory data reset, then select Erase all data. Be aware that doing so will remove all data from your device—including contacts and photos saved in internal storage.
If you don't want to lose any of these files, be sure to back them up first. And if you ever need to restore your phone's software, you might have trouble getting it back up and running without a valid backup.
If disabling ads isn't enough or doesn't work for some reason, there is another way i rooting your device.
2. Root Phone
If you have rooted your device, you can easily remove all those annoying ads from your home screen without having to pay money.
Rooting gives you root access to Android, which lets you uninstall system apps (like that pesky bloatware) and even flash custom ROMs.
Rooting used to be easy, but now it requires:
Unlocking your bootloader (which wipes your device)
Installing TWRP recovery (which allows for flashing)
Unlocking your bootloader again (to install TWRP)
Flashing Magisk (to hide root access from certain applications)
And finally flashing a custom ROM like LineageOS or Resurrection Remix OS.
It is not impossible, but it takes a lot of time and effort.
Does this work with MIUI phones only?
Yes and No. This works with all Xiaomi phones that have a customized version of MIUI, but it can remove ads from other devices too if they use modified versions of Android.
However, not all phones that use modified versions have these kinds of ads built into them.
The reason why these are more prevalent in Xiaomi phones is that Google doesn't allow access to their apps on them like they do with Nexus devices, so developers tend to modify things to give users what Google does not provide by default.
Also Read: Fix: WiFi Not Working Problem in Redmi K50i 5G
If nothing worked, then what should you do now?
You have tried everything and you still see ads all over your phone. You might be thinking that your phone is possessed or that Xiaomi is turning all of its users into product testers.
Relax, there is an easy way to get rid of these ads. It won't take more than a few minutes and won't even require you to spend any money.
All you need to do is flash a custom ROM onto your device and these ads will disappear for good. So what are you waiting for? Let's begin. You can now follow these steps:
Download the latest stable build from XDA Developers Forum for your smartphone.
Extract it and place it in an easily accessible location like your desktop.
Go back to Settings on your phone and scroll down until you find About Phone.
Tap it once then tap on Build Number seven times until it tells you that Developer Options have been enabled.
Now return to Settings > Additional settings > Developer options.
Find USB debugging and enable it.
Connect your phone to your PC using a USB cable (the one that came with your device should work fine).
Once connected, open Minimal ADB & Fastboot on your PC and type ADB devices at Command Prompt. If everything went well, your phone's serial number should appear on the screen.
Type ADB reboot bootloader at Command Prompt to enter Fastboot mode.
Wait a few seconds as your phone reboots into Fastboot mode.
Next up, you need to unlock your device's bootloader by typing Fastboot OEM unlock at Command Prompt. This process will wipe all data stored on your phone so make sure you have a backup before continuing.
Enter yes when prompted to confirm unlocking your bootloader.
When finished, type Fastboot reboot-bootloader at Command Prompt to restart your phone and wait for it to finish rebooting.
After your phone has successfully booted, connect it to your PC again and launch Minimal ADB & Fastboot.
Type ADB devices at Command Prompt again to ensure that your device is recognized by Windows.
The last step involves flashing a recovery image onto your device. To do so, type Fastboot flash recovery [path to recovery image].img where [path] is the full path to your chosen recovery image file.
Will it affect my warranty?
Not really. Xiaomi's bootloader unlocks tool is supported and widely used by developer communities.
The process doesn't void your warranty, but it does mean you won't be able to get phone support from Xiaomi. You should make a backup before proceeding, just in case.
Conclusion
In conclusion, having ads on your smartphone is not a major issue if you are tech-savvy. Also, keep in mind that different Xiaomi phones have different ways to remove or disable ads.
In general, you need to open your phone's Settings page and look for an Application Manager (depending on your phone model).
From there, it's best to just find apps with permissions like Internet Access or Installing Applications, then tap their names and select Disable.