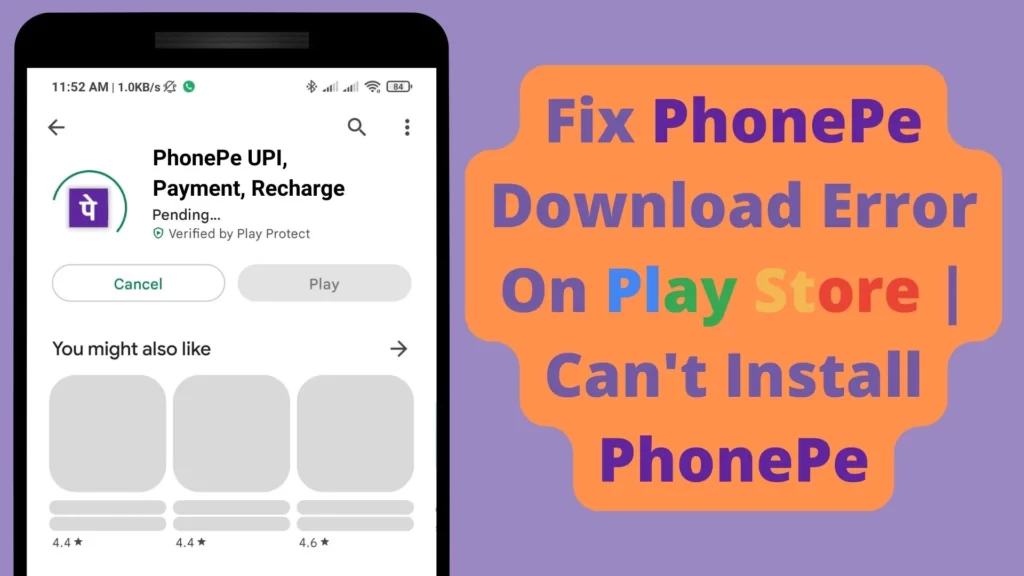 Hii welcome to Techshadow, here you can discover helpful articles related to How, Fixes, Solutions, and guides, where we personally experience the problem or service and then write articles.
PhonePe is an Indian digital payment and financial technology company headquartered in Bengaluru, Karnataka, India. PhonePe was founded in December 2015, by Sameer Nigam, Rahul Chari, and Burzin Engineer. The PhonePe app, based on the Unified Payments Interface, went live in August 2016.
Recently, I was unable to install PhonePe through the Google Play store it was showing cant install PhonePe. So I tried some fixes that worked for me. So today in this post I am going to share those solutions that will work for you as well, so keep reading till the end to know the solutions.
Scenario while PhonePe not Installing
Your PhonePe download gets stuck and won't finish.
When the download completes, it doesn't install.
While downloading it shows can't download PhonePe, try again.
While Downloading PhonePe Play store gets crashed.
Common Reasons behind PhonePe not Installing
Internet issue.
The device may not have sufficient storage space.
The device may be incompatible with the app.
Play Store Cache Error.
Incorrect date and time on the device.
PhonePe App Not Showing in Play Store
If the PhonePe app not showing in Play Store then it is a very different case. It may have been removed from the Play Store due to:
The PhonePe app may have violated the Privacy policy of the Play Store.
PhonePe may not be available in your country.
Fix PhonePe Download Error On Google Play Store | Can't Install PhonePe
1. Time And Date
Many users face PhonePe Download Error only because they don't have accurate dates and times according to their country. So once try setting the time and date to the automatic mode, thus it will solve the problem automatically.
Steps to Set date and time in Automatic mode:
Open your phone's Clock app.
Tap More & Go to Settings.
Then go to System time.
Now to set automatically update your date and time Tap on Change date & time, Then Set time zone automatically.
2. Insufficient Storage
The most common reason behind the Phonepe not installing is the device does not have enough storage space to install the app. If there is insufficient space on your device, it will prompt you to delete some of your data or photos to make room for the installation.
For example, if you have a 16 GB phone and you want to download an app that is 1 GB in size, then you will need at least 1.5-2 GB of free storage on your phone before it will allow you to install it. So in a similar case go to Settings > Storage > Now clan some files that you don't want.
If you know that there is enough storage available on your device but the installation still fails, then there might be a compatibility issue with your device.
3. Use the Apk Download site
If you are facing problems downloading PhonePe using Play Store then there is an alternate option to use the trusted Apk Download site that you can use to download the PhonePe app and install it.
Here is a list of best-trusted sites that you can use to download PhonePe:
4. Internet Issue
Check if your internet is working or not. If your internet is weak you may face this issue. While downloading apps it's better to have a Wi-Fi connection for some time.
If you are using mobile data connection to install the PhonePe app then you should have a good speed connection. If your Mobile data is not working then you should troubleshoot it or connect to a Wi-Fi connection.
If you're using a Wi-Fi connection then make sure it is fast and working properly. If it is not working then try restarting the Wi-Fi router if it doesn't work then call your Wi-Fi network provider for help.
5. Clear Cache
A cache is nothing but a small file that includes files that help future processes faster and can be deleted easily. So sometimes cache stored in the Play Store creates problems while using the Play store.
Open your device's Settings app.
Tap Apps & notifications App info or See all apps.
Tap Google Play Store.
Tap Storage Clear Cache.
6. Restart Device
Sometimes there is some misconfiguration with the device so restarting your device can solve a lot of problems. So if your facing some issues with Play Store then restarting the device may help to solve various problems.
7. Compatability issue
There is the preferred lowest Android version that supports PhonePe but you should have at least a 4.4 Android version to be capable to run the PhonePe app. If you have the new OS version pending in download then you should update it to run the PhonePe app then you should Update your Android OS version.
To check and Update your Android system update follow the steps given below:
On your Android phone or tablet, open your Settings app.
Tap System Advanced System update.
Your update status appears.
Follow the on-screen instructions to download or install updates.
8. Clear Data of Play Store
Following this solution is time taking. Clearing data of your Play Store will delete all data of Play Store, so you will have to log in to your account again which may be a hectic task. When you remove your account, some information is removed from your device. Make sure you back up any important information before you complete this solution.
Open your device's Settings app.
Tap Apps & notifications App info or See all apps.
Tap Google Play Services.
Tap Storage.
Tap Clear storage Clear all data OK.
9. Get Help
If you followed all solutions and unfortunately none of them worked for you then, we recommend you contact the app developer through PhonePe Website.
If they don't help you solve your problem then you can go to the nearest mobile shop that can help you. If they don't help you then unfortunately the only option left is you reset your device to factory settings.
Conclusion
We have researched and explained the best possible solutions to fix unable to download PhonePe from the play store in this post. Hope this post helps you to solve this problem.
Don't forget to share your experience related to this problem.