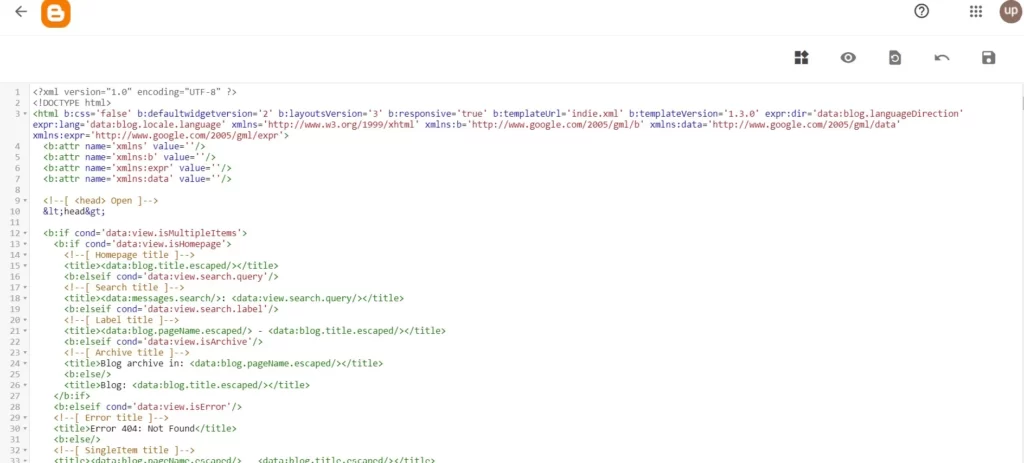 Blogger is an American online content management system that enables multi-user blogs with time-stamped entries. Pyra Labs developed it before being acquired by Google in 2003. Google hosts the blogs, which can be accessed through a subdomain of blogspot.com.
A Blogger template is a design in XML format composed of CSS, XML, and Javascript code that can be used to create a blog, website, or app using the Blogger.com platform.
Many people use many third-party templates to install on their blog but sometimes they face issues installing this template on the site.
I have more than 4-year blogger experience, thus I know some solutions to this issue. So today I am going to share those solution tips with you so read till the end.
How to install a new Blogger template
Follow the simple steps given below to install the new template.
Sign in to Blogger.
In the left menu, click Theme.
You can Select some stock templates available in this section. Or you can use third-party templates from Blogger tempted providing sites.
In the case of third-party Click the down arrow present in front of CUSTOMISE button then you will get the Edit HTML option click on it.
Now paste the HTML code that you can find in the XML file of the downloaded Template.
To save the template just tap the save button which is present in the right-end corner.
Fix: Blogger Template Upload Error | Blogger Template Not Saving
1. Missing tag
In HTML code if there is all tags are not closed this issue is shown. It means some code is missing which needs to be fixed. For example, this error looks like this:
org.xml.sax.SAXParseException; lineNumber: 27; columnNumber: 7; The element type "title" must be terminated by the matching end-tag "</title>".
In such a case if you know basic HTML then you may be able to solve the issue. You just have to navigate to that particular line number of code and then look for the issue. Most of the time tag is not closed so close the tag and try to save the template.
If you didn't know HTML then just go to google and search for the same template and this download it from another source so that the chances of error will be low.
2. Poor Internet connection
Check if your internet is working or not. If your internet is weak you may face some issues while using Blogger. While uploading a new template it's better to have a Wi-Fi connection for some time.
If you are using mobile data connection to install the new Blogger template then you should have a good speed connection. If your Mobile data is not working then you should troubleshoot it or connect to a Wi-Fi connection.
If you're using a Wi-Fi connection then make sure it is fast and working properly. If it is not working then try restarting the Wi-Fi router if it doesn't work then call your Wi-Fi network provider for help.
3. Update your Browser or use another Browser
It is better to use the Blogger platform on Browser which is the best-supported browser. Doesn't matter which browser you are operating make sure you keep that browser updated to the latest version available so that there will not be bugs and it will support the Blogger platform fully.
If are still facing the issue then try to use a different browser. Also, try to Clear your browser's cache and cookies. Steps to clear cache and cookies of BLogger in your Browser:
On your computer, open Chrome.
At the top right, click More.
Click More tools. Clear browsing data.
At the top, choose a time range. To delete everything, select All time.
Next to "Cookies and other site data" and "Cached images and files," check the boxes.
Click Clear data.
If it doesn't work then Open a window and browse in private then go to blogger and log in to your account then operate the work.
4. Get Help or Give Feedback
If you still didn't find what's wrong then you can either get help and see some FAQs and check the community for solutions or give some feedback to google they might reply to you with the solution.
Conclusion
We have mentioned and explained the best possible solutions to fix Blogger Template Upload Error | Blogger Template Not Saving in this post. Hope this post helps you to solve this problem.
If have any questions then do ask in the comment box.