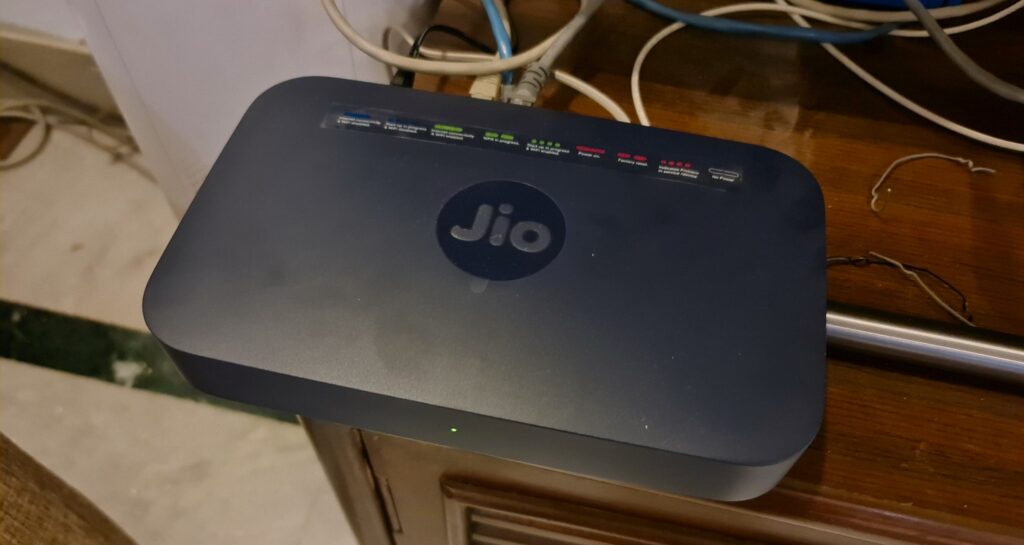 A blinking red light or poor network in your Jio fiber router can be quite frustrating, especially when you are experiencing a connectivity issue.
The blinking red light in the Jio fiber router indicates there are issues with the connection and hence, you won't be able to access the internet on your device connected via the router.
The Jio Fiber router has gained immense popularity after its launch, and it is one of the best ways to receive superfast Internet connectivity in your home.
If you are facing issues with this router, then this article will be of immense help to you as we will be listing out some of the top solutions to fix Blinking Red Light on Jio Fiber router that may fix your issue. So without any further ado, let's begin.
Jio Fiber Red Light Blinking: What does that mean?
If your Jio Fiber router's red light is blinking, it usually means that there is a connection problem with your internet service.
Red flashing on the Jio Fiber broadband router indicates an active internet connection but, unfortunately, you cannot use it for browsing or for other services.
The most common reason behind blinking red lights on Jio Fiber routers is due to low signal strength. You can easily fix it by following these simple steps:
Solutions to The Jio Fiber Blinking Red or Poor Signal
Jio fiber router's blinking red LED issue is a common one faced by people who use Jio fiber home internet. Jio fiber blinking red light on the router is a major concern for most of us who rely on it for our internet connectivity.
Since there isn't any other option available in India, we hope that Reliance Jio will come up with an effective solution to fix the Jio fiber router blinking red light. But We've tried to come up with some fixes that you can do on your own.
1. Restart Your Jio Fiber Router
The first thing to do if your Jio Fiber router is blinking red is to restart it. Doing so will clear out any temporary issues you may be facing and get your router running like normal again. To restart your Jio Fiber router:
Unplug it from its power source for a minute or so, then plug it back in.
The lights on your router should stop blinking and return to their usual color (Green) pattern when the restart is complete.
In case, if this doesn't work, don't worry, we have some other fixes.
2. Hard Reset Your Jio Fiber Router
You should try Hard resetting your Jio fiber route. How you do it depends on what kind of router you have because the Jio fiber router has 2 models, one is old and the other one is the latest one.
However, both these routers have some common similarities in terms of their functioning. To hard reset your Jio fiber router:
Unplug your Jio fiber box from power.
Locate the hidden reset button on the back of your router. This button must be smaller. It is located in a kind of hole.
Take a small object which can pass through the hole and press and hold it for 15-30 seconds.
This will hard reset your Jio Fiber router.
After you restart the router, you will be asked for your SSID and the password given to the router. Enter it and see if it works.
3. Check All The Cables and connections of the Jio Fiber Router
If your Jio fiber wire is blinking red, there could be two possible reasons behind it. First of all, if you haven't plugged it properly into your router then that might be the reason. And the second one is a faulty cable. There is a black cable that connects to the fiber and a DSL box. If it is broken, you will see a blinking red light on your Jio Fiber router.
To solve it, you have to change to a new one by calling customer care or you can go to the nearest Jio Store in your city.
4. Is Jio fiber down?
If you have Jio fiber and it has a blinking red light, then your Jio fiber is down. If your internet connection is down, you will see a blinking red light on your Jio fiber router and it won't fix with the above solutions.
If you are having issues with Jio fiber and have a blinking red light on your router, don't panic. Call the customer care toll-free number at 1800-896-9999 to make sure if it is really the problem from Jio's side.
Conclusion
When you see a blinking red light on your fiber router, it can be a little bit alarming. Fortunately, if there is no apparent hardware issue, you should be able to fix whatever problem has cropped up by referring to your device's user manual and following those troubleshooting steps.